My humble beginnings in the world of public safety communications began in 1993 at a small community college police department just outside of Chicago. It was there that I wanted to get my feet wet and use it as a stepping stone to become a police officer or fire fighter. It was also there, that I got my first taste of a job which captured me and allowed me to turn it into a career. During my time in communications, I ventured out into other components of public safety. I dabbled a bit in the fire service, spent a handful of years volunteering for an emergency management agency, worked a decade as an Emergency Medical Technician and had the amazing opportunity to work as a part-time/reserve police officer for ten years. If you add it all up, I should be about 110 years old… but I was in my 20's & 30's and was having a blast working ALL the time. It was from these opportunities and long hours that I feel provided me with a well-rounded view and appreciation of public safety. That knowledge I continue to use when making my decisions.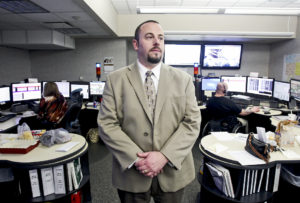 In 1997, I went to work for the City of Highland Park (IL) as a telecommunicator and eventually worked my way up as a Communications Training Officer, Lead Telecommunicator and the Communications Supervisor. A large dispatch consolidation in 2014 closed my center and prompted me to seek out other opportunities. I was provided with an opportunity to move into the private sector, however I still felt that I there was more for me to accomplish on the public side. As a result, I spent some time in a larger center as a shift supervisor before moving into my current executive director role.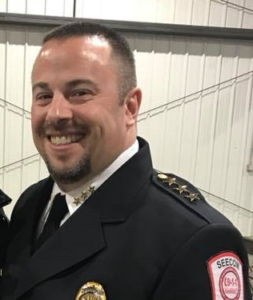 Early 2015 I eagerly accepted the opportunity to become the Executive Director of Southeast Emergency Communications (SEECOM) in Crystal Lake, IL. Working with a staff of 31 full-time employees and serving over a dozen agencies I have found a home that will provide me opportunities for several years. The staff is amazing and when challenged they exceed the needs and standards placed before them. Over the past four years, they have received a number of agency recognitions.
While I can't take credit for the concept, SEECOM created a Wall of Life in the center. This display provides an outlet to recognize staff for life saving measures. Since its inception in 2016, staff has provided medical instructions to callers which has resulted in 13 individuals who were not conscious and not breathing being able to walk out of the hospital. This is why I do what I do!
Industry Highlights
Communications Unit Leader (COM-L) – 2010
Illinois APCO Chapter Senior Designation – 2011
Illinois APCO Chapter Life Designation – 2011
Registered Public Safety Leader (RPL) – 2016
Illinois APCO Director of the Year – 2016
Emergency Number Professional (ENP) – 2017
Certified Public Safety Executive (CPE) – 2018
APCO International Senior Designation – 2018
SEECOM obtained National Center for Missing & Exploited Children (NCMEC) Missing Kids Readiness Project Partnership – 2015
SEECOM obtained APCO Agency Training Program Certification – 2016 (Recertification in 2019)
SEECOM obtained Medical Accredited Center of Excellence (ACE) through the International Academies of Emergency Dispatch (IAED) – 2016 (Recertification in 2019)