Article from APCO's Public Safety Communications (PSC) Magazine (March/April 2019 Vol. 85 No. 2)
Jason Kern Announces Candidacy for 2nd VP
Hello my fellow APCO members, by way of introduction my name is Jason Kern from the Illinois Chapter. I am humbled to announce my candidacy for APCO's 2nd Vice President.
Since 1991, I've been involved in some facet of public safety including time in law enforcement, fire/EMS, emergency management, and most notably 9-1-1 communications. Having the experience on both sides of the mic has provided me with a well-rounded knowledge of public safety. Going back to 1993 I found my way in to the communications arena where I, like many, intended to use it as a stepping stone for a public safety career. Little did I know that the job would envelop me and I soon decided that communications was my passion.
Over the years, I've held positions as a telecommunicator, communications training officer, lead telecommunicator, shift supervisor and currently am the executive director of a regional consolidated 9-1-1 emergency communications center. Throughout my tenure, aside from my normal duties, I've been tasked with managing the procurement, installation and management of numerous technology projects in addition to policy writing, human resources and budget oversight. Operationally, I've been part of numerous operations as a tactical dispatcher and COM-L including state, local and federal events.
In 1997, I became a member of APCO and have been extremely active in both chapter and national activities. As a member of Illinois APCO, I've held numerous board positions over a 13-year tenure, including two terms as chapter president and several years on the Executive Council. Additionally, I've spent time as the chair of the IL Emergency Medical Dispatch Committee, a member of the IL Historical Committee and currently sit as a long-term member of the legislative committee. Over the last several years, the legislative committee has been successful in obtaining two surcharge increases, a NG9-1-1 and consolidation cost recovery bill, and currently is working towards introducing training standards language. In 2011, Illinois APCO presented me with the Chapter Senior and Life distinctions and Illinois NENA presented me with a Legislative Recognition Award.
On the national side, I've been involved in a number of committees over the past 14 years such as historical, member and chapter services, professional development events, leadership development, finance and budget, and investment. It was during my time on these committees that I began to understand how important it was to become increasingly involved in APCO. I also began to meet and network with some amazing peers from across the country, which impacted me both personally and professionally. In 2011, I was appointed as the executive council representative for Illinois where I spent the next 5½ years as the conduit between national and the chapter. From 2013 thru 2016, I was appointed to serve the association as a group leader. This opportunity provided me with keen insight into the leadership of APCO, leadership of our committees and the long-range vision and strategic plan we were working towards. Since 2016, I've been fortunate to serve the North Central Region as a representative to the board of directors.
As a senior member of APCO International, I'm very familiar with where we have been as an association and where we are currently. Only with continued open dialogue, frequent communications and hard work with our membership, industry partners and other associations can we push ourselves into the future to meet the needs of our members and the industry. As a premier public-safety association we are fortunate to have a large, growing and diverse membership, and it is my opinion that those members are what give us the drive and allow us to succeed. In the years to come, let's work together to move forward items included in Project 43, create opportunities for training and standards across the country, concentrate on the mental and physical health of our peers, and obtain recognition for the first responders that we truly are!
In both my personal and professional life, I am very motivated and driven. It is my goal to mentor individuals, foster leadership and instill confidence in others to make decisions that will positively impact us in the years to come. I am passionate about the public safety communications industry, a proud member of our association and highly motivated as I seek your support to help lead our organization.
---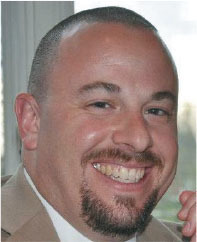 Jason E. Kern, RPL, CPE, is the Executive Director at Southeast Emergency Communications (SEECOM) in Crystal Lake, Illinois.